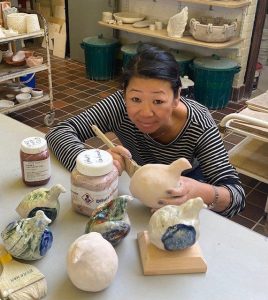 Jennie Roberts is a local artist and ceramicist who lives in Penn. Jennie would describe herself as fit and as someone who takes care of herself. Jennie always went for her routine breast scans and was rather shocked when she was called back to have further investigations. The Breast Unit at Wycombe hospital had received funds from Scannappeal and thanks to them, the latest scanning machines were available. A very small, very deep tumour was discovered, but Jennie was treated quickly and thankfully, made a great recovery. Jennie has been a firm supporter of Scannappeal ever since.
As a way of giving back to Scannappeal, Jennie and her husband Guy have enabled Scannappeal to be a part of their Open Gardens scheme and this year, they hosted an evening of Music, Art and Flora. Their beautiful house became the backdrop for Mandy Watsham Dunstall to sing a repertoire of opera and West End favourites from the balcony of their stunning house.
Mandy is also a huge supporter of Scannappeal because she, too, had a similar experience to Jennie and again, thanks to the Breast Unit at Wycombe and to the equipment funded by Scannappeal, she has also made an amazing recovery.
2022 was the 35th Anniversary of Scannappeal and Jennie came up with the idea of making 35 Boobi Birds. The ceramic birds are the perfect gift to give anyone who perhaps has gone through, or who is going through breast cancer, or for anyone who is a lover of art and would like to own a unique piece.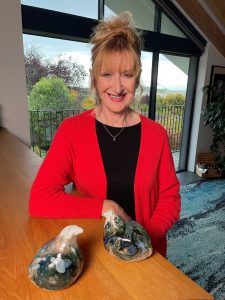 These Boobi Birds have already delighted a number of recipients. Julie Legrand is an actress. From 21st Nov she will be playing Mrs Dubose in the West End transfer of the Broadway production of 'To Kill a Mockingbird,' at the Gielgud Theatre.
"I only discovered Scannappeal recently, having moved to Buckinghamshire a year ago. It's a wonderful charity and I support its goals wholeheartedly. In the latest newsletter my eye was drawn to the article about Boobi Birds, marking Breast Cancer Awareness month, the images of Jennie Robert's ceramic birds being so beautiful and striking. I have far too many friends who've had to face the battle of breast cancer, so I was really keen to buy a pair of these witty birds and to make a donation to such a good cause at the same time, benefiting the Breast Unit at Wycombe Hospital. It was a great pleasure to meet the talented Jennie at her fascinating studio and to pick out my own special pair of birds. I highly recommend that others do the same! They'd make a perfect gift, but like me, you'll probably want to keep them for yourself!"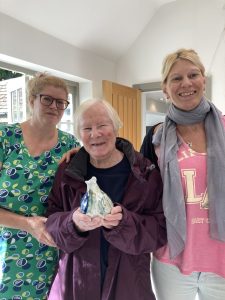 Greta and her sister Sandra gave a Boobi Bird to their mother, Chris (Holmer Green). They gifted the Boobi Bird to her for being 'Brave' and 'Strong', having gone through treatment for Breast cancer.
Each Boobi Bird is available for £60 and Jennie is happy to write a personalised message on the bottom of the bird. To purchase your unique Boobi Bird or for further information, please contact Jennie at: jennie@jennieroberts.co.uk
Money raised from the sale of these beautiful little birds will benefit the Breast Unit at Wycombe hospital.