Meet some of our fantastic supporters who have made a real difference to Scannappeal…
Elaine and Alan Ford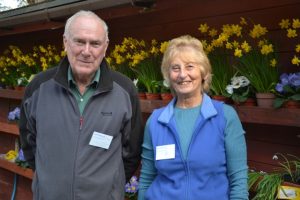 Elaine and Alan Ford started supporting Scannappeal in 2006 with the first of many events which included several annual summer outdoor concerts in their beautiful garden, Magnolia House. Stars including Paul Daniels and Vince Hill were just a few of the celebrities involved. This led to the garden opening regularly as part of our Open Garden programme.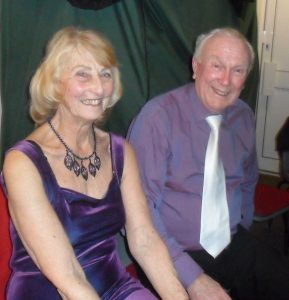 Another successful annual event organised by Alan and Elaine since 2009 is Strictly Dance. This phenomenal couple have raised over £36,000 for the charity, adding much glitz and glitter to the Scannappeal story.
Sheila and Malcom Way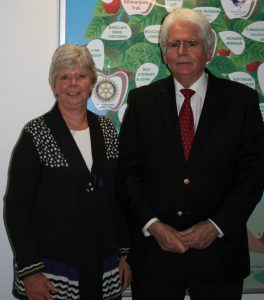 In the Summer of 1998, when the charity was situated in a portacabin at Amersham hospital, Sheila Way came into the office. As a keen bridge player Sheila was organising a fundraising event with the Beaconsfield Lions Wives Club. During that time, a part-time admin support role came up and Sheila applied for the job and worked for Scannappeal for over 8 years. The charity grew enormously throughout those years and greatly benefited from Sheila's methodical and meticulous approach and after retiring from the role continued as a volunteer with her husband Malcolm. Malcolm became an active bookshop volunteer at Amersham and Sheila continued to support the office finance/admin team.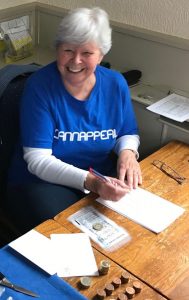 Over the last couple of years, they have been a great support at our Stoke Mandeville pop-up and now permanent bookshop. During the third lockdown in February 2021 this amazing couple have moved to be nearer family in the East Riding – Yorkshire, they will be greatly missed and we are very thankful for their generosity of time over the last 23 years and being part of the Scannappeal family.
Penny Slator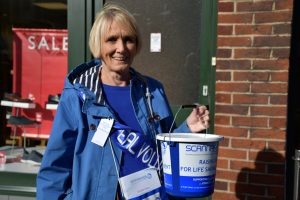 Penny Slator joined the Scannappeal volunteer team 22 years ago after retiring from nursing at Wycombe hospital. She has been a key volunteer at our Wycombe bookshop, supporting us at many collections and being a crucial support during the setting up of, firstly the Stoke Mandeville pop-up bookshop in 2018 and then continued as we opened the new shop in the hospital in 2020. Penny decided to join the bookshop team because of her love of books and reading, the role was a perfect fit and a great opportunity for Penny to keep in touch with the hospital in a different environment.
In Penny's own words:- "The best thing about a local charity is that you can see the difference that it makes in our local community and you can tell our supporters where the money is going."