The Scannappeal team already recognise fundraiser Phil Richards as a phenomenal supporter of Scannappeal, so when news arrived that he had been awarded an MBE in the 2020 Queens Birthday Honours in recognition of his services to the economy and to charity, there was huge delight and great cause for celebration.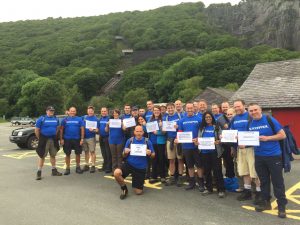 Phil has personally benefitted from equipment funded by Scannappeal and so knows first-hand how generous donations are turned into lifesaving equipment. In 2017 following a stage 3 kidney cancer diagnosis, Phil had a kidney removed using equipment purchased by Scannappeal and decided then that he wanted to 'give something back'. Phil, and colleagues from Tesco, immediately set themselves the challenge of climbing Snowdon. Less than 6 months from treatment he returned to Wycombe hospital to present the medical team who operated on him with a donation of over £50,000.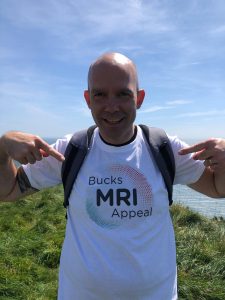 Fast forward to 2019 and Phil was once again inspiring colleagues and friends from around Tesco to join him on his mission to make fantastic things happen. Many miles were clocked up to reach an ambitious fundraising target of £100,000. Phil lead a team walking the Jurassic coastline; cycling 100km across the Chilterns and inspiring colleagues to walk from Salisbury Cathedral to Stonehenge. Tesco stores from across the UK also got involved with many choosing to personally support Phil by holding events in store or within their local community.
William Baxter, Scannappeal Chair of Trustees has passed on his personal thanks to Phil "Phil is one in a million; he has such positivity for life, he inspires us all and we are so proud to have him as part of the Scannappeal family. We are enormously grateful for his dedication and all he has done to support our work. Being recognised in the Queen's Birthday Honours is justly deserved and a great cause for celebration. Congratulations Phil!"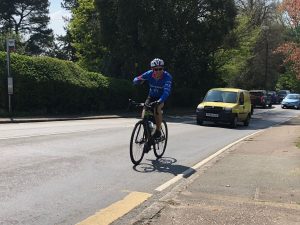 Phil is keen to recognise all those who have supported him in his fundraising mission, friends, family and colleagues form across Tesco who joined in and all those who donated so generously " I am lucky to be supported by a wonderful circle of friends and family without whom I wouldn't have achieved so much. Being awarded an MBE hasn't quite sunk in and I have been massively overwhelmed by all the messages of congratulations I have received. The truth about life is that you never really know what you are about to come up against or deal with. I've had some tough choices to make in my life and the biggest choice I've made is that I won't be living with cancer; cancer will be living with me! What I do know, is that out of even the saddest of situations, positive things can happen and this is where I can absolutely make a difference. My moto has become 'you don't have to be a Doctor to save a life' and now more than ever I want to encourage others to join me in fundraising for Scannappeal."
Hear from phenomenal Phil himself when he was interviewed on BBC Three Counties Radio here
If you would like to donate to Phil's just giving page click here