We are delighted to introduce David, the latest member of the Scannappeal fundraising family.
David is taking on a Virtual London to Brighton Cycle Ride on the 13 September in aid of our Bucks MRI Appeal. Here is why David has chosen to take on this epic challenge and support Scannappeal.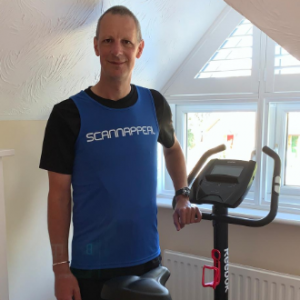 In May last year, after many months of abdominal pain, I was unfortunately diagnosed with stage 4 Bowel Cancer. Having initially had a blood test which showed no signs of cancer, I was given a CT scan a few days later which revealed the bad news.
A tumor was found to be causing a complete obstruction and a further CT Scan revealed that the cancer had also spread to my liver.
In the 12 months that followed I have undergone a stent procedure, emergency bowel surgery, 8 cycles of chemotherapy, open surgery to remove the liver metastasis and most recently, a course of radiotherapy.
During this time, I have never been far from my next CT or MRI Scan and now that I have made a full recovery, I feel that I owe my life to these machines. Not only did they help the doctors to make a diagnosis, but just as importantly, to assist them in providing me with the treatment and surgery that I needed to get to where I am now.
Scanners will also play a major role in monitoring my condition going forward and now that I am healthy again, I would very much like to do my bit to help this very important cause which will continue to save many lives for years to come.
To find out more about David's challenge and show him your support please visit his just giving page here:- https://www.justgiving.com/fundraising/davidhadley2020