Thanks to the generosity of our supporters, Wycombe General Hospital has received a brand new MRI scanner.
The Bucks MRI Appeal was officially launched in January 2019 as the biggest appeal in our 33 year history. Not only did the £1.5 million target feel like a huge mountain to climb but it also came with a time frame to ensure that our local hospitals would be the first to get scanners of this kind in the UK.
We are thrilled to share with you that we are already over half way and after meticulous planning the Wycombe scanner was delivered by crane on 25 January 2020. Within two months of delivery the first patient was scanned and we were delighted to receive the following message from the Radiology Team: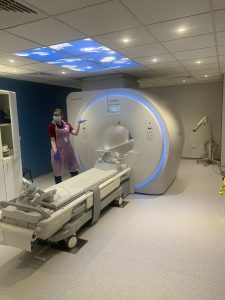 "It was very timely that under the difficult conditions
caused by COVID-19 we have been able to move out of
the mobile scanner and into our brand new scanning
suite in the hospital. We send our sincere thanks to
everyone who played a part in enabling this to happen".
Fundraising doesn't stop here; stage two of the project is to install a second scanner at Stoke Mandeville Hospital by the end of this year. Despite the current conditions the project team are working behind the scenes to make sure it can still be delivered on time.
Your donation today will ensure we can fulfil our promise to bring the best to Bucks, please donate here.