In our spring newsletter we were excited to share that we had reached the fundraising target of £1.5 million to complete the Bucks MRI Appeal. We are now thrilled to let you know that the second MRI scanner has just been delivered to Stoke Mandeville hospital. Although later than first planned, due to Covid-19 and a variety of issues during the site preparation and build, it is incredible to know that the equipment is now on site and will be operational before the end of the year.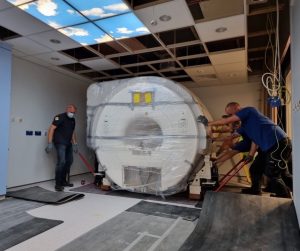 The delivery of the scanner on Saturday 2 October is best described as a gigantic game of Tetris. Corridors were cleared, doors removed to ensure the scanner could be manoeuvred in and then doors quickly rehung to allow hospital life to continue as normal. Incredible planning and accuracy from all involved. The next stage of the installation plan is for the scanner to be securely enclosed into the new dedicated radiology room to make it safe to be operational. Physicists from a London teaching hospital will then visit the site to test the system whilst staff are fully trained to allow it to go live with the first patients due to be scanned by the end of November.
Thank you to everyone who has supported this appeal and enabled us to deliver on our promise. We are privileged to support our NHS colleagues to ensure they have the best equipment to diagnose local patients and we could not have achieved it without your support.