An evening of music awaits you in the beautiful garden of local artist, Jennie Roberts. Jennie welcomes you to her garden to enjoy a perfect summers evening, bring your own picnic, listen to music, admire the beautiful house and garden and wander through the art studio.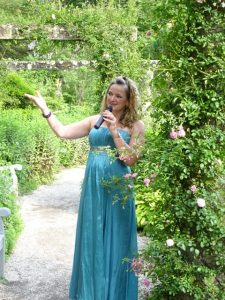 Music will be performed by Mandy Watsham-Dunstall and friends, all from the balcony of the historic house. Music selection will include light opera, theatrical hits and Last Night of the Proms.
The Chinnery was formerly the residence of Lord Dawson of Penn, Royal Physician to King George V. Parts of the house date back to 1700s. The south-facing 1.5 acre garden, has undulating lawns and deep flower beds, rockeries and a patio that is a flower pot haven.
The art studio is like a biopic of the Artists life. Photos, books, boxes of brushes, shelves laden with pots of paint, canvasses of past work representing her ever-evolving and eclectic style.  Jennie's work spans BritArt inspired Queens Heads to more classical collections of chandeliers, french chairs, rambling stems and flowers.
Tickets £18 each in advance. Sorry, no dogs are permitted.
+ Google Calendar
+ Add to iCalendar