Enter Scannappeal 's raffle for a chance to win a beautiful handmade Hungry Caterpillar Quilt, Special 50th Edition Golden Hungry Caterpillar Book and a Cuddly Hungry Caterpillar Soft Toy.
Janet Nicholl a Scannappeal supporter donated this quilt to the charity.  Janet explained: "I met Marie Hancock and her daughter Jane Napier through the local Cross Stitch Guild. We became great friends sharing a passion for crafting. Sadly Marie passed away suddenly in 2016 and Jane lost her fight with cancer in 2018. Amongst Marie's quilting stash was a partly completed Hungry Caterpillar quilt, which I have now completed with some help from the lovely ladies at The Bramble Patch in Weedon. It seemed appropriate to donate the quilt to charity and where better than Scannappeal who I have supported over quite a number of years."
2019 is the 50th Anniversary since The Very Hungry Caterpillar first munched its way through a variety of delicious food and into our hearts.
Raffle tickets are £1 each and can either be purchased directly from the Scannappeal office or online from: https://www.jumblebee.co.uk/scannappealhungrycaterpillar
Did you know? – Since its first publication in 1969, The Very Hungry Caterpillar has sold over 50 million copies worldwide and has been translated into over sixty-two languages
Quilt measures (115cm width and 165cm height)
The prize draw closes on World Book Day 2020 at 10.00am  – Thursday 5 March 2020 with the draw taking place at 1.00pm on Thursday 5 March 2020.
 All proceeds from the raffle will support Scannappeal, a registered charity founded in 1987, independent if the NHS, that raises funds to purchase state of the art medical and diagnostic equipment for Amersham, Stoke Mandeville, Wycombe and Community hospitals in Buckinghamshire. Local people living in Bucks  and neighbouring parts of Berkshire, Bedfordshire, Hertfordshire and Oxfordshire benefit from this life changing and life saving medical equipment.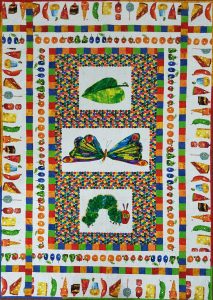 + Google Calendar
+ Add to iCalendar