THREE GARDENS FOR THE PRICE OF ONE! We are pleased to announce that two additional neighbouring gardens will also be open alongside Spindrift – Comley Bank and Downfield, which are all joined by a footpath.
Spindrift hosts a series of imaginative beautiful gardens which begin on the flat and lead gently downhill. The gardens have evolved since the sixties and include an extremely productive fruit and vegetable kitchen garden and a terrace of more than 190 varieties of hostas, a Monet-styled area and many water features. A pond and waterfall lead down into a magical dell. There is something at every turn, mature planting, established herbaceous borders and a multitude of tulips. Tea and homemade cake will be available to purchase throughout the afternoon.
Comely Bank (entry via Spindrift).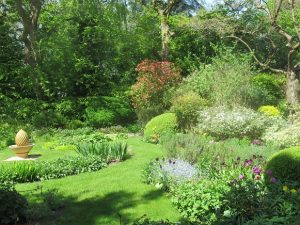 This garden has been re-designed and landscaped over the last 10 years. Benefiting from established trees surrounding the grounds, it now enjoys woodland gardens, combined with informal cottage planting. A pond area attracts natural wildlife. Ever-changing through the seasons, springtime arrives with great displays of daffodils and tulips, followed by alliums and aquilegias and then bright summer colours throughout all the beds and borders complimented with gently arching tree ferns
Downfield (entry via Spindrift).
Downfield is approximately one acre on two levels. There is a formal front and back lawn on a shallow slope with a wild patch set above a landscaped dell designed to resemble a dry river bed.
Tickets £6 for adults and under 16's £3 in advance only. Please note we have two allotted entry times to ensure safe social distancing. 2pm entry time sold out, however 2.45pm entry time still available.
Notes:- Partial wheelchair access to the the garden and dogs on leads welcome.
To open our gardens safely, we're limiting visitor numbers and have allotted two entry times. To avoid disappointment, we advise that you book your visit in advance. Please arrive within 30 mins of your entrance time and not before your entry time. You're then welcome to stay until closing time.  Please follow government guidance and current social contact limits at the time of the event. ga
+ Google Calendar
+ Add to iCalendar