'Comedy With-In Tent' is the brainchild of Potters Arms landlord Richard Edwards, who has built the pub's reputation for comedy within Bucks. The event sees big comedy names performing in a tent on the green opposite the pub. With Rebellion beer on tap and food available this is an event not to be missed!
The comedy festival runs from Friday 28 April – Sunday 30 April and offers a great line-up. The Comedy Store will be performing on the Sunday with their Cutting Edge topical show. Featuring six comedians performing jokes on topical news stories shouted out by you, the studio audience.
Day 1 of the Comedy Festival headlines with the  brilliant Ian Stone.
Also appearing are Potters Arms favourite Ninia Benjamin and Steve Lee as Mad Ron.
Day 2 of the Comedy Festival is going to be a cracker, the headliner is Scott Bennett, Scott is going to be the next stadium selling comic according to Richard Edwards, so make sure you see him before!  Scott is supported by Sally Ann Hayward and Russell Hicks.
On day 3 the comedy festival comes to a close with the guys from The Comedy Store bringing their Edge show down.
The comedy festival starts from Friday 28 April at 8.00pm and the kids show takes place on Saturday 29 April from 4.00pm.
Tickets are £20-£30 per day and kids show £10. Book your tickets through the Potters Arms here or by calling them directly at 01494 726222.
Comedy event in aid of Scannappeal.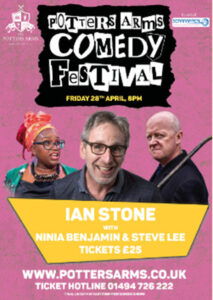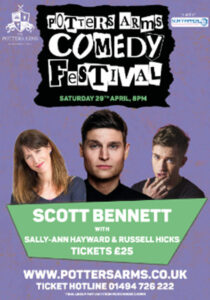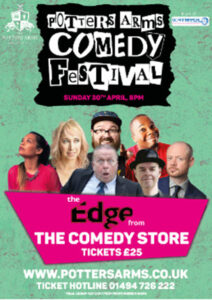 + Google Calendar
+ Add to iCalendar