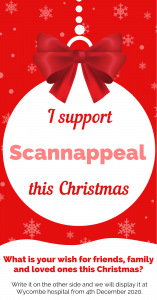 If Christmas wishes came true what would be your festive wish for friends, family and loved ones this Christmas? Or perhaps you have a special wish for staff working within our local NHS hospitals and their fellow key workers who have worked so hard to care for our local community?
This year you can complete a 'Scannappeal wish', which will be displayed on our special Christmas tree from 4 December in the main reception at Wycombe hospital.  To share a heartfelt message and support Scannappeal at the same time we are asking for a suggested donation of £5 per wish, but other donation options available too.
To add your wish to the tree
1) Please purchase your wish.
2) Email us your wish at bht.info.scannappeal@nhs.net MAXIMUM 25 words and specify if you would like to include your full name on the wish. Alternatively you can call the office on 01494 734161.
3) We will acknowledge receipt of your payment and words for your wish by email.
4) Finally we will write out your wish on our special wish bauble and hang them on the tree.
+ Google Calendar
+ Add to iCalendar